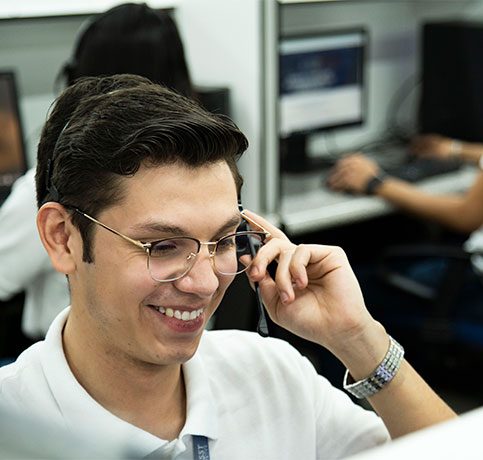 Six actions that will improve customer experience
Although we also handle outbound calls among other contact center activities, our specialty at CallFasst, for more than two decades, has been inbound calls.
With this experience behind us, we know that the efficient management of inbound calls is a key aspect for any contact center since it is often where the first impression is established and the basis for a successful experience with the brand is laid. Based on this, we have compiled our best practices.
Reducing wait times
Considering that, according to Salesforce's State of the Connected Customer report, 83% of customers who contact a business expect to interact with someone immediately, we understand why average hold time (AHLDT) is one of the most important KPIs in a call center (the most concerning, of course, is call abandonment rate, and the most appreciated is first call resolution). In order to reduce it, we must have a fair enough number of agents available at peak times. In addition, the use of smart routing technologies and equal call distribution can help optimize the workload among agents.
Setting up an effective IVR
For the reasons explained in the previous point, tools such as Interactive Voice Response (IVR) become valuable in most contact centers. However, many IVRs are also often the headache of many users who get lost in the maze of options to dial. The key is to set them up properly: clear and concise options so that customers can be quickly directed to the right department or agent. In addition, it is important to ensure that the IVR menu is kept up to date and reflects all the most relevant needs and options for customers. Most importantly, keep in mind that there are cases where an IVR is not a substitute for a telephone advisor.
Training and empowering agents
Contact center agents are the face of the company to customers. It is crucial to provide them with solid, ongoing training so that they are prepared to handle a variety of situations and inquiries. This includes not only product or service knowledge, but also effective communication and problem-solving skills.
In addition, with the importance of customer experience (CX), it has become essential to empower agents; on the one hand, because studies have shown that happy consultants generate happy customers, on the other hand, because they are more confident to make decisions and solve problems independently, as shown by a McKinsey analysis where employees of a satisfied and engaged contact center were 3.3% more willing to solve users' problems.
Implementing a queue management system
A queue management system is a valuable tool for efficiently managing incoming calls. It allows you to set priorities, monitor call flow, and ensure that inquiries are handled in the correct order. In addition, this system can provide real-time information on the status of calls and provide key metrics to help evaluate performance, which brings us to the next point:
Constant monitoring and feedback
We are referring to both customers and agents. This can be accomplished through reviewing call recordings, conducting live listening sessions or implementing quality assessment tools. A Hubspot report shows that the top tool for measuring customer satisfaction is CSAT and that 67% of companies have shown tremendous growth by gathering feedback from their customers.
Use of self-service technologies
While studies show that 75% of consumers believe that calling a company will achieve a faster response time, the reality is that new generations may feel that their problem is solved faster if they do it themselves than if they wait on the phone line. Self-service is an increasingly popular option for many customers; the aforementioned Salesforce report indicates that last year 65% of callers used self-service and it is preferred by 66% of millennials. Implementing these technologies, such as online portals, can enable them to resolve common queries quickly and easily, freeing up the contact center to handle more complex and personalized inquiries.