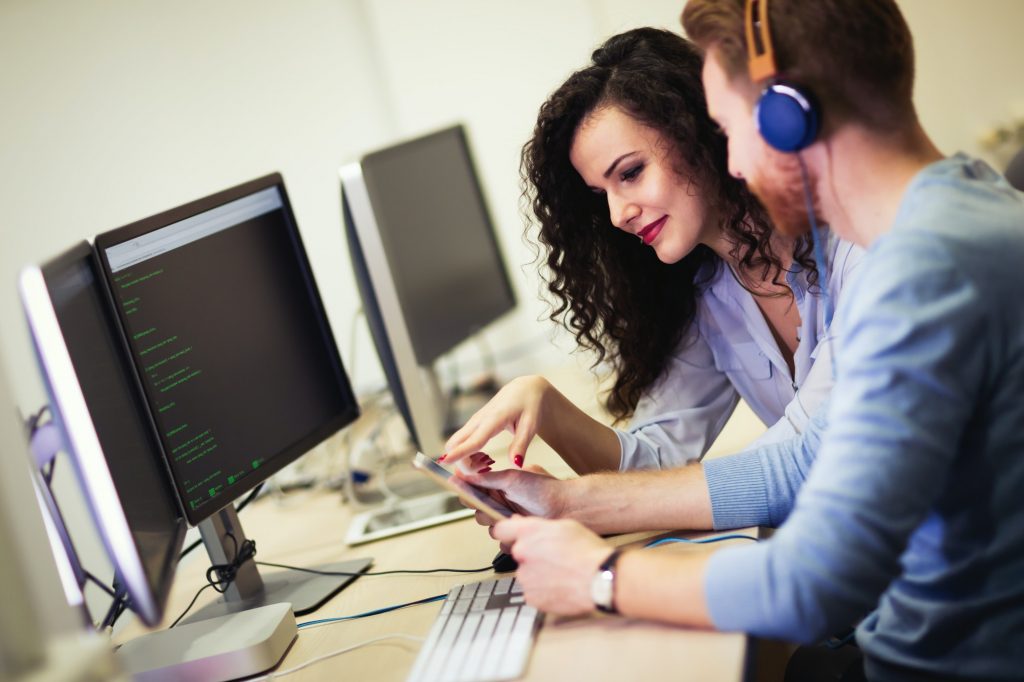 Introducing our IT & Infrastructure area
In a contact center it is essential to have reliable and constantly updated technology that allows to improve day by day the end customer experience and, at the same time, provide better performance and security to the companies that request their services. This is achievable thanks to the IT and Infrastructure team.
Eduardo Rugama, our Director of Information Technology and Infrastructure, shared with us the actions that this area performs in order to keep CallFasst as a growing company even in the face of the adversity of the pandemic.
Our IT and Infrastructure team Focused on continuous improvement
According to Eduardo, IT division is dedicated to all activities that involve continuous improvement. In addition, as a company that provides remote customer service, the information technology must be as robust as possible. At CallFasst, this has evolved over time, which has required to currently comprise five main areas:
Traffic and statistics – It measures the operation of the contact center's own activities to deliver reports for advisors, operational area managers and the companies we work for. This area generates up to 6 thousand reports per month, which are designed according to the needs of each campaign.
Development – At CallFasst, all applications for internal services are created in-house. This includes, of course, our own PBX (private branch exchange) that allows us to manage the large number of incoming and outgoing calls with autonomy over any other PBX. If required, this area is also responsible for making integrations with our customers' software and our operational areas such as payroll or incidents.
Support – It provides maintenance to all installations, settings and updates of computer equipment. It operates under a ticket generation system, producing around 500 tickets per month. It also ensures that the equipment and systems operate in the right place, for example, when it was necessary to move them to new facilities due to the pandemic.
Database – Responsible for the storage and management of data from CallFasst's internal applications, including the company's administrative system (ERP) and e-mail service.
TELCO – What would a contact center be without a telecommunications area? This one is responsible for managing about 70 servers and about 70 different links (internet, telephony, antennas, among others). Thanks to this area it was possible to implement the home office in several campaigns with security and efficiency.
Competitive advantage
One of CallFasst's strengths is that the Development area creates its own proven applications that work and adapt to specific needs of the operation and our customers. In addition to the telephone system, new systems have been generated while others are being added to keep up with the users' contact needs. While other contact centers have extra expenses for paying third parties for the implementation of this technology, our development is in situ, which saves costs.
Our IT and Infrastructure team ensuring security
According to Deloitte, the increasingly complex generation of consumer information implies greater cyber risks, CallFasst has an ISMS that protects user information, which is certified in the ISO 27001 standard in order to ensure confidentiality, integrity and availability of information. Among the actions carried out, we have database transfer via FTP and the use of DLP (data loss prevention) control, which prevents unauthorized people from extracting information.
In addition, internal analysis of all equipment is carried out on a frequent basis. Currently, CallFasst has been receiving periodic audits during four years in order to check its IT security and keep its certification without any problems, and is one of only two contact centers in the region to have it.
New technologies
Deloitte's report on digital trends for contact centers indicates that users increasingly demand more contact options with brands and institutions. In order to improve the customer experience, CallFasst implements new options to adapt to these new needs. One example is our multichannel campaign, which in addition to the traditional phone line also offer chat service and messaging on social networks such as Facebook, Twitter or WhatsApp.
Currently, the Development area is generating an application to move to omnichannel service, which concentrates the different contact channels in a single window. On the other hand, CallFasst is testing a chatbot designed to be the first contact with the consumer of certain campaigns so the response be much faster and help to solve autonomously certain specific cases that do not require an advisor.
However, the most recent achievements in Information Technology and Infrastructure came with the pandemic. As its director Eduardo Rugama mentions, with the arrival of confinement "paradigms were broken […] business needs had to change and we had to develop certain ideas to be able to do so". From all the contact centers that work with CallFasst's largest client, we were the first to be able to move forward with the home office option, since we were the one that had the technological capacity to do so in a secure manner.
Another case: during the pandemic, there was a campaign to attend potential Covid-19 patients. This required the implementation of necessary equipment in record time. Thus, the areas of General Services, Support and TELCO worked to have ready in just two days all the personal and infrastructure equipment for 20 positions with 40 doctors. Then, once again, location required to be changed on two other occasions, with less than 24 hours to relocate. Currently this campaign has 80 positions.
"Just as many companies went bankrupt or became smaller, we have grown," says Eduardo. The adaptability and work of the IT and Infrastructure team has been fundamental for these last two years, when the number of customer service advisors for our main client almost tripled, so we have had the biggest amount of operation hours in the entire history of our company.
External sources: